What is this?
So it should be no secret that I really enjoy the plot of Atop the Fourth Wall. It really is my nerdy soap opera. Some people have Lost, others have Desperate Housewives, I have a geeky comic book review show on the internet.
But if you're new to the show (or simply not as obsessed as me), you might quickly find yourself lost. Understanding the plot is not necessary for enjoying AT4W, of course, especially if you're just there to laugh at bad comics, but if it sparks your interest, you may be confused about what's going on, and why, and to who, and when it started, etc. The Channel Awesome Wiki and the new AT4W Wiki help a great deal with this, but there isn't really just a straightforward summary and guide for the entire AT4W plot. So I wrote one.
Why did I do this? Mostly to see if I could. I do think it could be useful though - for newbies who don't know where to start, for oldies who want to watch favorite moments again but can't remember where they happened, research for fanfic… If anything, it'll prevent you from being this guy: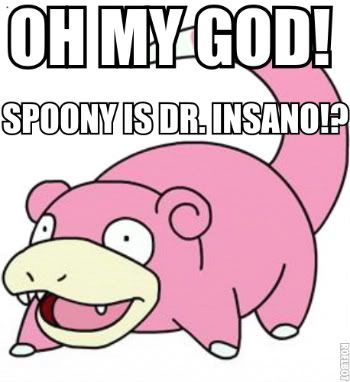 Hopefully this isn't too confusing - I've listed every episode that contains any scrap of plot. They're all AT4W episodes unless otherwise noted (there are a few Spoony episodes explaining the origins of Black Lantern Spoony, for example). Each one has a link to the corresponding video and a brief brief-ish moderately-sized summary. In the summaries, there may be links that lead to other contributors, explanations of references, etc. The episodes are divided into separate storylines. If you want to see a storyline or character tag in chronological order, be sure to click on it in the sidebar.
I'll try to keep this updated as the plot progresses. Please let me know if I missed anything or made any typos or if you can think of ways to improve the wording. (Hahaha who am I'm kidding, no one's gonna read all this.)
BTW, I decided I'm not going to go into the first appearances of Pollo, Harvey, 90s Kid, or Ninja Style-Dancer. The reason for this is that until the Mechakara fight, they don't really affect the plot at all. To catch everyone up, I wrote a quick description of each character below.
Pollo (pronounced "poy-oh", Spanish for "chicken") - Linkara's robot pal and manager. He can shoot lasers from his eye and provides a number of useful technologic services.
Harvey Finevoice - A smooth-talking Sinatra-type with million-dollar pipes. Always wears a tux and has a Tommy-gun as his weapon of choice.
90s Kid - A flannel-wearing surfer dude type. Loves EXTREME 90s comics, particularly those by Rob Liefeld.
Ninja-Style Dancer - He's a…ninja…that…dances? Never speaks except through flash cards.
ONE MORE THING: Linkara will sometimes drop hints or confirm things about the plot in the comments of his videos, not to mention his Twitter and forum, so if you reeeeeaaaally care, check those out.